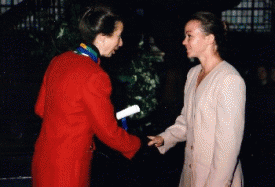 Catherine Tiphanie (pronounced Tiffany) trained at the British School of Osteopathy (now University College of Osteopathy), London, qualifying in 1993.
She then returned to Singapore, where she ran her own Osteopathic practice for 3 years. This specialised in the treatment of babies and children; and performers, especially singers.
Whilst in Singapore, Catherine was also heavily involved in the professional horse-racing industry. It was here that she was asked by the Yorkshire trainer for whom she worked (1995), to treat their entire stable of race-horses with osteopathic treatment as required.
Moving to Aberdeen in August 1996 allowed Catherine to resume her academic interests. A long-term interest in the history and philosophy of medicine led to her undertaking a degree in Philosophy at the University of Aberdeen.
Catherine then returned to clinically-based studies, initially training at the Glasgow Homeopathic Hospital , to achieve an LFHom(Osteo) in 2004. She continued her homeopathic studies with the Faculty of Homeopathy, and was the first osteopath to be awarded the MFHom(Osteo) in 2010.


In 2005, and in addition to ongoing homeopathic training, Catherine also trained with the 
British Medical Acupuncture Society
 . This involved practical training in Western Medical Acupuncture. Since this time, acupuncture has been integrated within daily clinical practice, as required. Further study of acupuncture was continued through the postgraduate programme at the University of Hertfordshire with Catherine completing her MSc in Western Medical Acupuncture in 2011.
An interest in Public Health, and how healthcare systems are managed in different countries, led to another academic challenge. In 2007 Catherine was once again back at the University of Aberdeen as a part-time student, embarking on an MSc in International Health and Management – through the Public Health Department of the Medical School. She graduated from this MSc programme in 2010.
As much of the daily practice of an osteopath involves providing patients with long-term postural and lifting advice, Catherine has also undertaken specific training in ergonomics and holds the British Occupational Hygiene Society certificate in Ergonomic Essentials. Ergonomic advice complements the musculoskeletal treatment of an osteopath, by providing patients with individual postural and manual handling advice, which they can then apply to their daily roles and activities. This type of advice aims to reduce repetition of injuries; and to assist individuals to manage the physical demands of their daily workload.
Complementary medicine embraces a holistic approach to healthcare. It acknowledges there is a strong connection between the mind and the body, and that stressor factors on either the mind, or the physical body, will influence the wellbeing of that entire person. There are several academic areas which acknowledge this relationship and its complexity, most notably, research in the field of psychoneuroimmunology.
The complexity of achieving health and wellness, together with the clinical prevention and treatment of dysfunction caused by lifestyle related diseases, is the domain of Lifestyle Medicine. Catherine is Director of Aceso Lifestyle Medicine Ltd, a company which promotes wellness through education, understanding and engagement with nutrition, exercise and stress management – all strong contributory factors of chronic disease.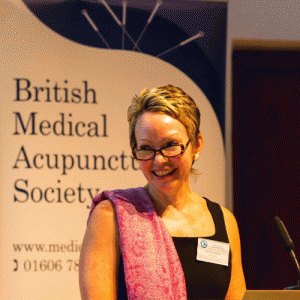 Catherine's work has evolved over her years in Practice – inspired by her patients, their questions, challenges, and interest in improving their health. Always interested in expanding her knowledge of the complexities of the human body, and the spectrum of health, Catherine has completed a postgraduate programme in Nutritional Medicine,at the University of Surrey. As with her other learning, she integrates this additional knowledge into her current Practice.
When not with patients, or caught up in university commitments, Catherine can be found performing a variety of roles for the British Medical Acupuncture Society (BMAS). She was President of BMAS from June 2016 to 2018, and is currently Treasurer for the
BMAS. Additionally, she sits on their Professional Services and Education Committees. She teaches on the BMAS Foundation Courses, training Medics and other Registered Healthcare Professionals how to integrate Western medical acupuncture within their scope of practice – a most rewarding experience.
I have developed this website in response to many of the questions that people regularly ask me. I want it to be a resource with information about the range of different complementary therapies in which I have been trained.
In order to offer the best quality information, much that is included in this site is taken from the official websites of the professional registering bodies. Links to these sites are included within the text – to provide further reading material for those with an interest. I hope you will explore this site and find the information you may be looking for.