Regulation of Osteopathy
All osteopaths in the UK are regulated by the General Osteopathic Council (GOsC).  It is against the law for anyone to call themselves an osteopath unless they are registered with the GOsC, which sets and promotes high standards of competency, conduct and safety.
Further information can be found at the General Osteopathic Council website:
See About Osteopathy
See Visiting an Osteopath 
How many treatments are needed?
Sometimes only a few treatments are needed. Other people may benefit from regular treatment o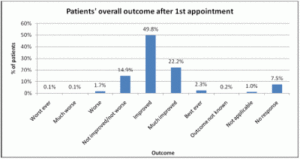 r an occasional "service" every few months to keep everything working
Patients are seldom disappointed with the results, and are frequently extremely happy at being able to resume a more active lifestyle
A recent pilot study by the National Council for Osteopathic Research (NCOR) – NCOR: The Standardised Data Collection Project – looked at the outcomes of patients following an individualised course of treatment showed the following results. The first graph shows outcomes after only one appointment session with an osteopath: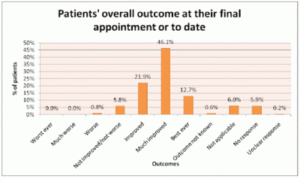 The second graph shows outcomes at the end of the individualised course of treatment for a patient, although the study was only conducted over a course of 3 months, so some patients may not have finished their required course of treatment:
Check full report of this study.
To return to the main Osteopathy page please click here